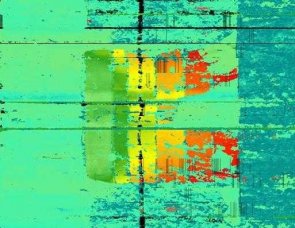 Adhesive bonding
Depending on the structure design and material, several NDT bondtesting techniques are possible. Wavelength NDT routinely use standard A-scan and advanced C-scan ultrasound inspection techniques for checking the bonding on monolithic carbon fibre laminates.
We are also experienced in using specialist lower frequency ultrasonic and acoustic inspection methods for highly attenuative composite materials and cored laminates.

Special phased array C-scan ultrasound setups can be developed to target particular bonding concerns such as the formation of the adhesive resin meniscus between a honeycomb Nomex core and the skin.
These techniques can be adapted for more novel forms of honeycomb assemblies such as the sintered Titanium hexangonal structure seen in the image below.