Wavelength NDT develop and apply new techniques to enhance inspection of cored composites.
Wavelength NDT has successfully developed a new Non Destructive Testing (NDT) procedure using a new 0.5 MHz wheel probe together with phased array ultrasound techniques. This combination of technology and techniques allows ultrasound beam steering to be controlled, which in turn greatly enhances the detection, imaging and sizing of defects.
In partnership with Marine Results this method and practice has been applied in the Marine sector to yacht structures such as hulls, booms and thick composite structures. Combined with the portability of the equipment, the inspector is able to conduct large area inspections with great ease and efficiency. The wheel probe has a scan width of 128mm in a single pass. The technique itself enables the recording images of the underlying structure of hulls, booms and masts and is ideal for identifying a wide variety of manufacturing and in-service defects such as skin to core delaminations, blisters and impact damage.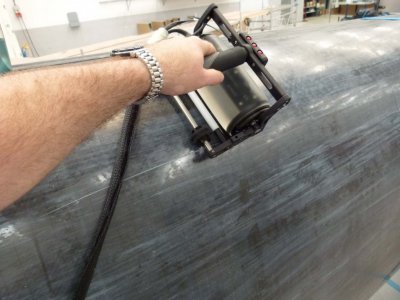 Wavelength developed the inspection technique from his knowledge and experience of methods used in the aerospace industry to test cored laminates. "A grand prix racing yacht's hull, like a TP52 or Volvo 70, would benefit from inspections using the phased array wheel probe to get a picture of what is going on inside the composite structure. The system automatically collects ultrasound data, as we scan. The resulting baseline NDT images can then be used instantly and then to guide future inspections of the structure, monitoring integrity." explained Richard.
Marine Results have already successfully conducted a number of inspections using this technology, primarily focusing on the quality assurance for new build yachts, which have large sections of thick glass fibre monolithic and cored laminates. The gathered inspection data has proved to be a great advancement in the development of NDT technology and vessel inspection; especially when compared to traditional methods such as tap-testing.