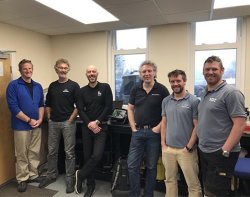 In 2015 Wavelength NDT, in collaboration with Lavender International, developed a bespoke level 2 NDT training course for the inspection of marine composites to support inspection services offered by Marine Results International. 5 years later the inspection services have grown with Marine Results setting up a dedicated NDT company, NDT International. Giles Waterhouse, director at NDT international said: "We are proud to be working with Lavender International and Wavelength NDT to have developed this bespoke course that specifically fits the needs we see for our inspectors, specialising in composite components. Our recertification course this year re-enforced the value we see in this structured training and examination, which we see as essential to develop and demonstrate competency."
Read the full story at Lavender International here:
Wavelength NDT continue to support technique development, training and certification activities in all sectors of Composite NDT ensuring that new and existing techniques are properly validated and qualified, using inspectors with appropriate training and certification.