Wavelength NDT launch new website and establish social media platforms.

August 2013 sees the launch of the new look website for Wavelength NDT and is the spearhead leading the expansion of the company's overall online presence. Using a bespoke content management system the new website can now be updated with greater ease and is mobile technology friendly, enabling news and updates to be broadcast with a wider scope.
The overall presentation of the website now has a smooth and slick interface enabling easy navigation throughout. Page designs and content have been constructed to allow for a faster and content rich user experience.
New elements on the site tie in with the popularity and expansion of social media channels. A defined "News" area is now available containing the latest press releases and information from Wavelength NDT. Hand in hand with this, there is now access to Twitter, Linked In and an RSS Feed subscription, so visitors can get interact and stay up-to-date with Wavelength's projects and industry updates. Users can also sign up to receive future e-casts and newsletters.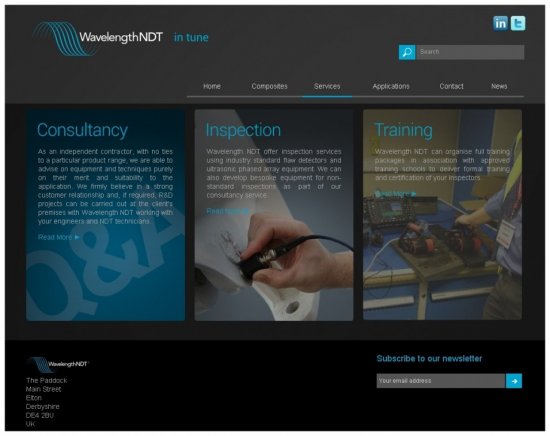 The new website showcases the Wavelength NDT's areas of expertise and offer the user insights into various fields of operation within the realms of NDT. Wavelength NDT pride themselves on working closely and "in tune" with their clients. Managing a team of specialist suppliers and partners ensures that the latest technologies, personnel and equipment are utilized on each project in a bespoke nature. Overall the mission of Wavelength NDT is to offer fast and efficient responses to enquiries and deliver high quality inspection and consultancy services with excellent customer support and strong technical rigour. The new website will reflect this as well as informing visitors about the key operational sector activity in the field of NDT within the aerospace, composites, marine and advanced materials communities, amongst others.