PCN Level 2 Dye Penetrant Inspection Certification completed by Richard Freemantle.
Wavelength NDT are pleased to announce that in February 2013 Richard Freemantle successfully achieved his PCN Level 2 Liquid (Dye) Penetrant Certification.
Following an initial 40 hours of classroom training with Lavender International, further on-site practical experience was gained and submitted to the British Institute of NDT as part of their certification process. The required number of hours experience was achieved in partnership with Marine Results at their dye penetrant line in Hamble, near Southampton (UK), which included the fluorescent dye penetrant inspection of marine rigging components. Further experience in visible dye penetrant inspection was also gained at a variety of other sites in the UK and Europe.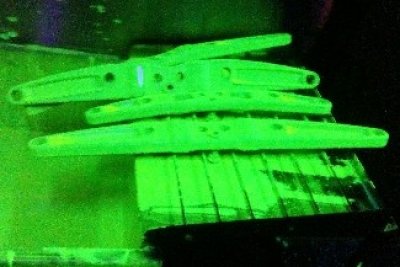 Used to detect surface defects such as micro-porosity and "surface-breaking cracks" which are a normally invisible to the naked eye, dye penetrant inspection involves applying a visible or fluorescent dye to the surface of the part or piece to be inspected. The dye enters any imperfections via capillary action, enabling clear, visual inspection. This method can be applied to any non-absorbent material with uncoated surfaces. Level 2 qualification broadly covers all dye penetrant testing procedures and selection, product technologies, inspection, evaluation and reporting, post-test procedures and safety.